The Charity CrossCountry ride has been cancelled due to Covid 19, and for the welfare of participants.
Clare Suicide Bereavement Support continue to support individuals and communities in Co. Clare in these challenging times, by phone or text – 086 056 5373 | 087 369 8315
In aid of Clare Suicide Bereavement Support. Enjoy a Hack and Cross-Country Ride around Quin/Doora and surrounding areas with the annual Charity Horse Ride in aid of Clare Suicide Bereavement Support. This year the Charity Horse Ride takes place on Sunday March 15th.  It will leave from The Monk's Well, Quin at 12.30pm, stopping by the Shibeen in Doora for refreshment, and then returning to The Monk's Well for further food and refreshments.  All levels of horse and pony are welcome.
Entry fees are: Horses €25, Ponies €15
Clare Suicide Bereavement Support is a voluntary organisation which has been supporting the bereaved in Clare for seventeen years. None of the members are paid and the support which is available 24/7 is free of charge. Clare S.B.S. is registered with the Charities Regulator and a report is submitted annually.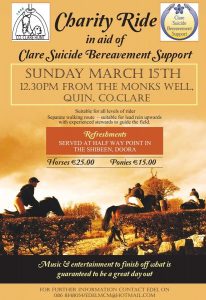 Support is offered to families and friends who have lost a loved one by suicide. This support may be on a one to one basis, to a family or community group or to a group of bereaved people who come together for a Healing Programme. A death by suicide is usually followed by extreme sadness, turmoil and emotional pain. There can also be a sense of aloneness and a fear of not being accepted or understood. It can also be difficult to admit that one needs support. The support offered by Clare S.B.S. is completely confidential and those who have looked for support have found a way to gradually move towards self-acceptance and calm. While the loved one who has died is never forgotten, the pain is made easier. The bereaved person learns to deal with the loss and get back to a normal pattern of living.
For further information or support phone or text one of the following numbers: